books how to soften feet and hands
If you do not find what you're looking for, you can use more accurate words.
View more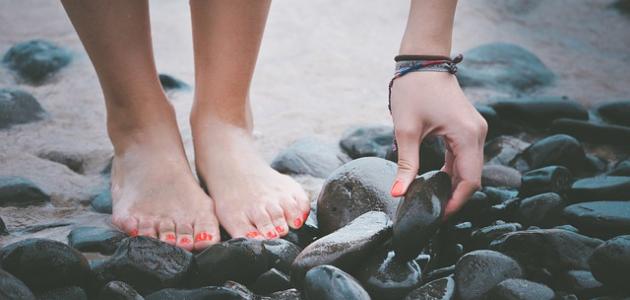 طريقة تنعيم القدمين واليدين طبيعيّاً
يتعرض كلٍ من اليدين والقدمين للجفاف، والتشقق بشكل خاص، بسبب العوامل البيئية المختلفة كالرياح، والهواء الجاف البارد، وأشعة الشمس، والمواد الكيميائية الضارة كالصابون، ولعلاج ذلك يُمكن تنعيم اليدين، والقدمين باتباع الطريقة الطبيعية الآتية:
المكونات:

حبّة من الليمون.
مقدار من السّكر.
مقدار من الماء الفاتر.
عدّة قطرات من زيت اللافندر، أو زيت الورد الأساسي.
مقدار من زيت طبيعي كزيت جوز الهند، أو زيت اللوز، أو زيت الزيتون.

طريقة التحضير والاستخدام:

الاستحمام أو نقع اليدين، والقدمين في حوض صغير مملوء بالماء الفاتر، وليس الساخن؛ لئلا تتهيّج البشرة لمدّة 10 دقائق.
تُضاف أحد الزيوت الأساسية للماء؛ لتهدئة الجسم.
تُجفف اليدين، والقدمين بمِنشفة ناعمة.
تُقطّع الليمونة إلى النصف، وتُغمس بالسكر.
تُدلّك المناطق الخشنة في اليدين، والقدمين بنصف الليمونة بعد وضع السكر عليها، وكما يجب تدليك أصابع اليدين، والقدمين بحركات دائرية رقيقة، ويُنصح بتدليك المناطق الخشنة جداً باستعمال حجر الخفاف، أو مبرد التنعيم.
تُغسل اليدين، والقدمين بالماء الفاتر، وتُجفف بالمِنشفة.
يوضع أحد الزيوت الطبيعية على كرة قطنية، ثمّ تُمرر الكرة القطنية على القدمين، وحول الأصابع مع تكرار غمر الكرة القطنية بالزيت عند الحاجة؛ لترطيب البشرة بلطف.
ارتداء جوارب قطنية نظيفة؛ لتغطية القدمين، والحفاظ على نظافة القدمين أثناء وضع الزيت.
تُكرر العملية لليدين، ثمّ يتم ارتداء قفازات قطنية نظيفة؛ لتغطيتهما.
يُترك كلٍ من الجوارب، والقفازات على البشرة لمدّة لا تقل عن ساعتين، ويُفضل تركهما حوالي 8 ساعات خلال الليل؛ لنتيجة أفضل في امتصاص الزيوت.
تُكرر هذه العملية مرة أسبوعياً، ويُمكن وضع الزيت على البشرة يومياً.

ملاحظة: يجب الانتباه قبل اتّباع هذه الوصفة، أو وضع الزيت من حساسية البشرة، كما يُنصح بالترطيب العميق اليومي بعد غسل اليدين، أو غسل الأطباق.
طريقة طبيّة لتنعيم القدمين
يُنصح بتدليك كعب القدم بكريمات ترطيب؛ للحفاظ على رطوبتهما، ونعومتها، إذ تضمن هذه العملية منع حدوث التشققات من خلال وضعها على القدمين من مرتين إلى ثلاث مرات يومياً، ويجب أن تحتوي كريمات الترطيب التي تُساهم في حماية البشرة من الماء، ومنع تراكم الأوساخ عليها، على العديد من المواد المهمة، ومنها:
اليوريا (بالإنجليزية: Urea).
حمض الصفصاف (بالإنجليزية: Salicylic acid).
أحماض ألفا هيدروكسي (بالإنجليزية: Hydroxy acids).
السكرايد إيزوميرات (بالإنجليزية: Saccharide Isomerate).
نصائح لتنعيم اليدين
هنالك العديد من النصائح الهامة لتنعيم اليدين، ومنها:
ارتداء قفازات لحماية اليدين من العوامل البيئية، كالرياح في فصلي الخريف، والشتاء.
ارتداء قفازات لحماية اليدين من التهيّج، والجفاف عند غسل الصحون لا سيما في فصل الشتاء.
استخدام واقي الشمس ذو مُعامل حماية لا يقل عن 20 درجة، وتوزيعه على اليدين لا سيما في فصل الصيف.
شُرب ما لا يقل عن لترين، أو ثمانية أكواب يومياً من المياه؛ للحفاظ على صحّة البشرة، وحمايتها من الجفاف.
Source: mawdoo3.com