books ways to lighten the feet and hands
If you do not find what you're looking for, you can use more accurate words.
View more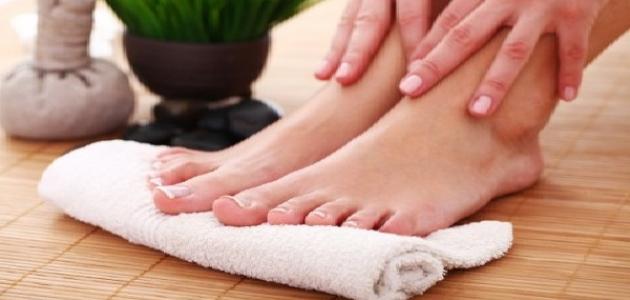 العناية بالقدمين واليدين
لا يتقصر الجمال على الاهتمام بالشعر أو البشرة فحسب بل يشمل الاهتمام باليدين والقدمين، لذلك تسعى العديد من السيدات إلى استخدام العديد من الطرق التي تحافظ على يديها وقدميها، وإظهارهما بشكلٍ مُرتب ومُتناسق، بعيداً عن استخدام الكريمات الصناعية التي لها تأثير سلبياً في المستوى البعيد، من أجل ذلك يُفضل الاستعاضة عنها بالوصفات الطبيعية والآمنة، لذا هذا ما سنتحدث عنه في هذا المقال.
طرق تفتيح القدمين واليدين
الزبادي والكركم
المكوّنات:
علبة من الزبادي.
القليل من الكركم.

طريقة التحضير:
نخلط المكوّنين جيداً، ثمّ نطبق الخليط على القدمين واليدين لمدّة ثلاثين دقيقة.
نغسل البشرة، ونُكرر الوصفة مرتين في الأسبوع.
القهوة وماء الورد
المكوّنات:
ملعقتان كبيرتان من القهوة.
ملعقة كبيرة من ماء الورد.

طريقة التحضير:
نخلط المكوّنين جيداً، ثمّ نفرك الخليط على القدمين واليدين، ونتركه لمدّة ساعة تقريباً إلى أن يجف تماماً.
نغسل البشرة، ونُكرر الوصفة مرتين في الأسبوع.
زيت الزيتون والكركم
المكوّنات:
ملعقة كبيرة من زيت الزيتون.
ثلاث ملاعق كبيرة من الكركم.

طريقة التحضير:
نخلط المكوّنين جيداً، ثمّ ندهن الخليط على القدمين، واليدين، ونتركه لمدّة ثلاثين دقيقة إلى أن يجف تماماً.
نغسل البشرة، ونُكرر هذه الوصفة مرتين في الأسبوع.
قشور البرتقال والزبادي
المكوّنات:
قشر حبة من البرتقال مجفف، ومطحون.
ملعقة كبيرة من الزبادي.

طريقة التحضير:
نخلط المكوّنين جيداً ثمّ نطبق الخليط على القدمين، واليدين وذلك لمدّة تتراوح من ربع إلى ثلث ساعة.
نغسل البشرة، ونُكرر الوصفة مرتين في الأسبوع.
الطحين والليمون
المكوّنات:
ملعقتان كبيرتان من الطحين.
ملعقة كبيرة من عصير الليمون.
نصف ملعقة كبيرة من الكركم.

طريقة التحضير:
نخلط المكوّنات جيداً، ثمّ نطبق الخليط على القدمين واليدين لمدّة ثلث ساعة تقريباً.
نغسل البشرة ثمّ نكرر الوصفة مرتين في الأسبوع.
الليمون وزيت الزيتون
المكوّنات:
نصف ملعقة كبيرة من عصير الليمون.
ملعقة صغيرة من زيت الزيتون.
ملعقة من الماء الفاتر.

طريقة التحضير:
نخلط المكوّنات جيداً، ثمّ نطبقها على اليدين والقدمين.
نفرك البشرة من الوقت إلى الآخر.
نمسح البشرة بقطعة من القماش، ونغسل البشرة بعد ليلة كاملة.
نصائح لتفتيح القدمين واليدين
غسل اليدين والقدمين مرتين يومياً على الأقل.
تناول الخضروات، والفاكهة الغنية بالفيتامينات التي تعزز نعومة البشرة ونضارتها.
تقشير البشرة بين الفترة والأخرى.
ترطيب البشرة باستخدام الوصفات الطبيعية.
استخدام الوصفات الطبيعية في تفتيح بشرة اليدين والقدمين؛ وذلك لأنّ استخدامها ليس له أي مضاعفات سلبية.
Source: mawdoo3.com