books how to take care of hands and feet
If you do not find what you're looking for, you can use more accurate words.
View more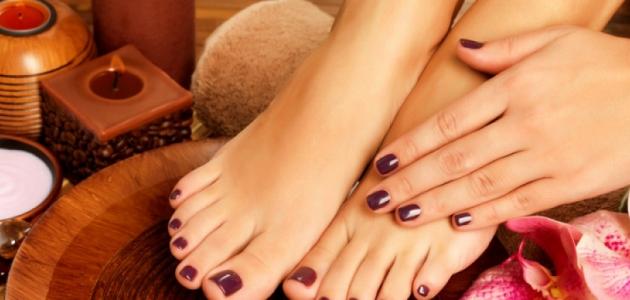 كيفيّة العناية باليدين والقدمين
تتعرض كل من اليدين والقدمين بشكل يوميّ إلى العديد من العوامل والظروف التي تتسبب في تغير لون الجلد وتشققه في تلك المناطق، مثل التعرض لساعات طويلة لأشعة الشمس المباشرة واستخدام المنظفات والمواد الكيماويّة، لذا من المهم اتخاذ التدابير اللازمة للعناية باليدين والقدمين، وأهمها الحصول على التغذية الصحيّة والسليمة، والتي تساعد في الحفاظ على صحة الجلد وتعويض الخلايا التالفة منه.
ترطيب اليدين والقدمين
يعتبر ترطيب اليدين والقدمين من أهم الأمور الواجب القيام بها من أجل المحافظة على نعومتها وشبابها، ويكون ذلك من خلال استخدام كريمات الترطيب المخصصة لليدين والقدمين، والمداومة على استخدامها عدة مرات خلال اليوم الواحد، وبالأخص قبل النوم، وهي الفترة التي لا تتعرّض فيها اليدان أو القدمان للماء وغيرها من المواد الكيميائيّة، بالإضافة إلى تجديد خلايا الجسم بشكل سريع خلالها، كما يمكن الاستعانة بإحدى الطرق المنزليّة من أجل ترطيب اليدين والقدمين، وذلك من خلال:
يمزج مقدار ملعقة من العصير الحامض مع ثلاث ملاعق من الجليسرين.
تقشر حبة بطاطس كبيرة وتبرش، ثمّ يعصر برشها للحصول على العصارة منه.
يضاف مقدار ملعقة من عصارة البطاطس إلى مزيج العصير الحامض والجليسرين.
يضاف مقدار عشر قطرات من خلاصة البنزوين إلى المزيج السابق.
يفرد المزيد الناتج على اليدين والقدمين ويترك إلى حين امتصاص الجلد له بالكامل.
تقشير اليدين والقدمين
من المعروف أنّ خلايا الجلد تعيش لفترة معينة من الزمن، ثمّ تموت ليظهر مكانها خلايا جلديّة جديدة أكثر فعاليّة، وفي كثير من الأحيان يتراكم الجلد الميت أسفل القدمين وعلى مناطق أخرى من اليدين متسبباً في خشونة ملمسهما وتشققهما، ومن المهم التخلّص من هذا الجلد الميت من خلال عمليّة التقشير، وذلك باستخدام منتجات التقشير كالمراهم والغسول، أو استخدام الماكينات المخصصة لذلك، أو زيارة أحد مراكز التجميل والحصول على جلسة للعناية باليدين والقدمين، أو تطبيق إحدى الطرق المنزليّة، وذلك بمزج ملعقتين من السكر مع القليل من الفازلين، وتدليك اليدين والقدمين بالمزيج.
العناية بأظافر اليدين والقدمين
ظهور الأظافر بمظهر صحي دليل على صحة الجسم، لذا من المهم الاعتناء بصحة ومظهر الأظافر، وذلك بالمداومة على تقليم الأظافر وبردها والتخلص من الزوائد اللحميّة المحيطة بها، ومنع تشققها أو تغير لونها باستخدام طلاء الأظافر المغذي، أو اللجوء إلى أحد الحلول المنزليّة، مثل دهن الأظافر بزيت الخروع، أو عمل عجينة مكونة من كميّة متساوية من الباكنج باودر والعصير الحامض، وفرد العجينة الناتجة على الأظافر وتركها حتّى تجف.
Source: mawdoo3.com